George McGovern, who passed away today at age 90, is one of three major party candidates for President that I have actually met. The other two are Bill Clinton and Mitt Romney, but in their cases I only got to shake their hands. I got to talk to George.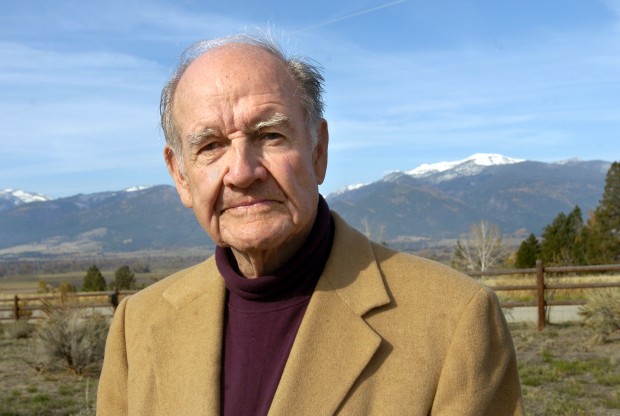 The decorated World War II bomber pilot, who flew 35 missions against the Germans, took on Navy vet Richard Nixon in the 1972 election. George would win only 37.5% of the vote and carry only the state of Massachusetts and DC. The only comparable loss on the Democratic side is 1984 when Walter Mondale won 40.6% of the vote.
When I first arrived in Massachusetts in 1980, you'd still see the occasional faded "Don't Blame Me, I'm from Massachusetts" bumper sticker left over from the Watergate scandal that forced Nixon to resign. Nonetheless, Massachusetts voted for Ronald Reagan in 1980 and 1984.
Mondale and McGovern are the corner post and brace post of the Democratic Party. On the other side, Bob Dole (40.7% in 1996) and Barry Goldwater (38.5% in 1964) are the corner and brace for the Republican Party. American politics is the barbed wire fence strung between those two corners. You can get through a barbed wire fence only if you are willing to suffer a few snags.
I turned 10 in 1972 and that's the first Presidential election I can really remember. I was a Nixon boy in a largely Republican small Iowa farm town. I had a Cub Scout meeting on election night, and the Democrat father of the family sat in the next room watching the election returns come in on TV. After the short meeting, we joined him, and I remember feeling a little sheepish as the states came in one after another for Richard Nixon, 520 electoral votes to 17 didn't seem sporting.
I met George McGovern in May 1998. He was giving a
graduation speech
at the University of Montana in Missoula, and I was there with my grandparents, parents, aunts and uncles, siblings, and cousins because one of my cousins was graduating.
I'd arrived a couple of days earlier and we had all watched the final episode of
Seinfeld
. I may be confusing my Missoula trips, but I believe this trip was the first time I used a cell phone. My brother lent me his and I got a call from him on his wife's phone as I was driving down the main drag in Missoula. I pulled off to the side of the street to take the call. That seems a rather quaint practice now. Just yesterday I saw a girl on her bicycle chatting on her cell phone as she rode in city traffic.
George talked about his work at the U.N. This was the Clinton administration and he was the new U.S. Ambassador to the U.N. Agencies for Food and Agriculture. He also told a truly poignant story about his daughter Terry, who struggled for three decades with depression and alcoholism. On a cold night in December 1994, at age 45, she stumbled out of a Madison, Wisconsin bar and into an alley where she passed out and froze to death.
The historian Stephen Ambrose also spoke at the graduation. His best quote, which I remember being such a stark contrast to the Terry McGovern story:
"This is the American century. Our greatest gift to the 21st century, which you will be running, is freedom. ... America is the land of opportunity. Reach out and seize it."
Those kids who graduated that day would now be around age 36, so they are finally eligible to run for President and take on running this operation (next time, maybe). My cousin just announced on Facebook that he had bought a tarp and joined the local gun club. He is a teacher.
I met George McGovern at the Missoula International Airport the next morning. It would be more precise to say that my grandfather met him. We were standing in line to check luggage on the Northwest Airlines flight to Minneapolis, from which we would get separate connecting flights. The line was long and the flight was delayed. And there was George McGovern in line right in front of us. My grandfather never missed an opportunity to extract someone's life story and introduce his family.
The airline sent us home and told us to come back in the late afternoon. They told us our plane had mechanical difficulties and had to bring another one up from Salt Lake City. I later read that the mechanics union was involved in some sort of work slowdown. So they stranded the Ambassador for nine hours, and us as well.
When we came back in the late afternoon, it was the same people waiting for the same plane out of Missoula (the International Airport designation being an artifact to some now-discontinued short hop flights to Canada). There was George McGovern again and we were his old friends from the morning. We had another long chat.
First Lieutenant in the U.S. Army Air Forces, Professor of History and Political Science at Dakota Wesleyan University, U.S. Congressman, U.S. Senator, Democratic Presidential nominee, U.S. Ambassador. That's a great career and a great life of public service, even if it does have its bittersweet qualities. He reminds me of Jimmy Stewart in
The Man Who Shot Liberty Valance
.
"This is the West, sir. When the legend becomes fact, print the legend."
George McGovern was a good-hearted populist. His 1972 campaign wasn't running a communist fifth column secretly negotiating to surrender Vietnam as Richard Nixon feared when he sent the Plumbers into the Watergate to bug his phones. And, of course, Nixon would ultimately dispatch Kissinger to do just exactly that.