Could Ted Kennedy be trying to send a message intentional or unintentional about who his U.S. Senate successor should be? We noticed that he got photographed a lot toward the end of his life wearing a red City Year jacket. And now one of the cofounders of City Year,
Alan Khazei
, is running in the special election to replace him.
Ted gets his red jacket from City Year.
With Boston Mayor Tom Menino and wife Victoria Kennedy.
Sailing.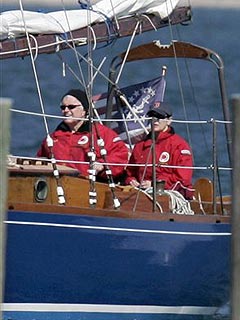 More sailing.
Walking the dogs.
Taking a walk, with the dogs off leash.
Standing on the porch.
Hanging out at the dock. (After the ad.)
City Year corps members in line at his memorial service.